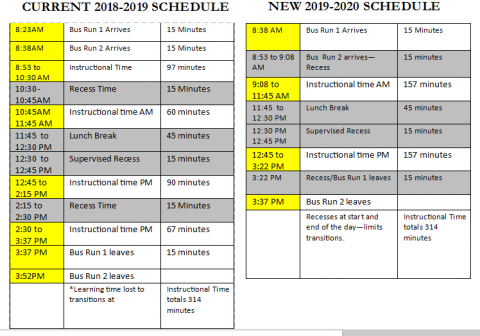 Starting in September of 2019, Arcola Community School will be moving to an alternate day schedule.
This schedule is intended to maximize student engagement, student learning and student achievement while responding to the needs of learners and families in our community.  In moving to the alternate day, we hope to limit the transitions (moving from inside the school to outside the school and back inside) during instructional times. Limiting these transitions will  allow the school  to focus on maximizing learning time as instructional time will not be lost.  Teachers will also make a conscientious effort to protect engaged learning time within this new schedule.
 
Additionally, by altering the school day schedule,  we will be responsive to the needs of our students by allowing for the start  of the day to be a little bit later than on the previous schedule and the end of the day will also be moved forward slightly. By eliminating transitions and slightly altering the length of the school day, it is our hope that  students will be more engaged learners during instructional time.

RECESS TIMES
We are not eliminating recess, we are moving it to the start and end of instructional time: Students will receive the same amount of recess time during the day—45 minutes.  As you saw on the front page, start times and end times are moved back as buses would arrive 15 minutes later than they do now and they will leave 15 minutes earlier. Recess supervision would start at 8:53am (when the second run of buses would arrive) and would go to 9:08am, when school would start. Thus all students would get 15 minutes of recess in the morning as they do this year. 
Our lunch period would not change. We will start our lunch break at 11:45am and it will be one hour. Like this year, the last 15 minutes will be recess.
In the afternoon, our recess will move from where it is currently, 2:15pm, to the end of the day starting supervised recess at 3:22pm. Recess will end at 3:37pm. After this, all students will be dismissed to go home and bus supervisors will stay out for to supervise students who are on the second bus.
MOVEMENT IS IMPORTANT!
We know that physical activity and movement is an important part of learning. We have heard concerns that by moving recess from the middle of the morning and the middle of the afternoon to the start and end of the day, we may be limiting students' movement breaks; therefore, impacting their learning.
To combat this, we are going to work on the incorporation of brain breaks and body breaks in the classroom during the 2019-2020 school year. Staff will learn to have their students take body breaks and incorporate movement into their regular classroom practice through our school division's occupational therapists, counsellors and psychologists. In addition, we are going to monitor to ensure that our students  receive physical education beyond what they are scheduled for in our gymnasium to ensure that all grades meet their required curricular minutes of physical education. This means that homeroom teachers will also be teaching some physical education in addition to the programming being offered by our specialist teacher, Mr. Church.
Questions or Concerns?
We invite interested or concerned parents/caregivers to attend an Information Evening on Thursday, May 2 at 6:00 p.m where we will be examining the alternate school day and discussing how this would look for the 2019-2020 school year.
We hope to see you there!