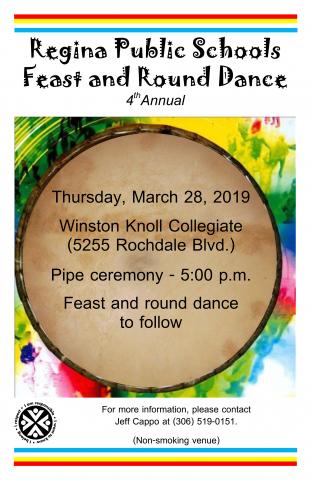 Regina Public Schools
4th Annual  Feast and Round Dance
Tuesday, March 28, 2019
Winston Knoll Collegiate
(5255 Rochdale Blvd.)
Pipe ceremony: 5:00 p.m.
Feast and round dance to follow
For more information, please contact Jeff Cappo at (306) 519-0151.
Please note that this is a non-smoking venue.

CLICK HERE to read a brochure (with feast protocol -- what to bring? How to dress?)

Winston Knoll and its family of neighbourhood schools is privileged to host the 4th Annual Regina Public Schools Feast and Round Dance this year in 2019. Each year, a different high school is chosen to host the event based on a clockwise rotation around the city. The purpose of this event is to be a learning experience not only for the students of that school, but also the staff. Learning the knowledge and teachings of a First Nations culture is an integral step in the reconciliation process in our country and our community.