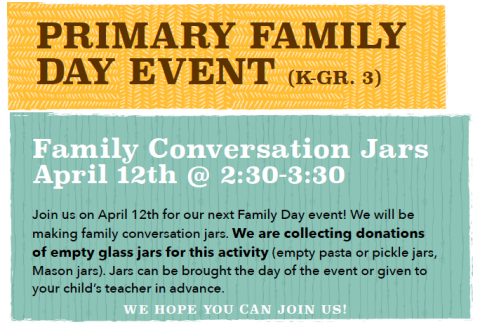 The Primary Team (K-3) is hosting its next family day on Friday, April 12 at 2:30-3:30 p.m.! Details can be found in the picture and with your child's teacher.

In several classrooms, families will be building "conversation jars" to encourage great table talk and to promote and develop oral language, which is a key contributor to literacy success.
We are looking for donations of jars (any size!) for families who may not be able to provide them. If you are able to bring any (such as jam jars, mason jars or sauce jars), please send them with your child and the primary team will collect them! Thank you so much.
 
Families, please remember that we are a scent-free and nut-free facility. Thank you for helping us keep those with allergies and sensitivities safe!