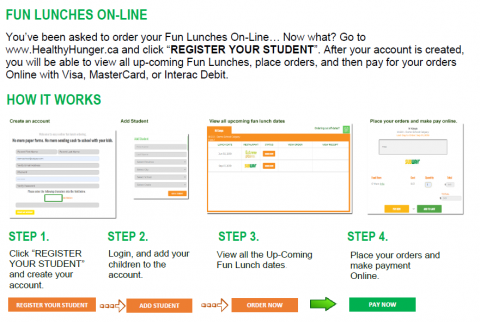 In an effort to bring hot lunches to the school we will be using Healthy Hunger.  Healthy Hunger is a website where parents can order lunches online and then they are delivered to the school the day of the lunch.  There are numerous vendors we can use, from Booster Juice to Pizza Hut.  We will try to have one lunch each month in for starters and then possibly increase as the year progresses.   
It is very simple to register!  Our first Fun Lunch will be on Friday, October 25th (Pizza Hut).  If you have any problems please contact the school directly or classroom teacher.
If you would like to order, the deadline is Friday, October 18th!
How to order?
Go to the HEALTHY HUNGER website and click REGISTER.
Follow the image for instructions!
You will need a CREDIT CARD to order online.