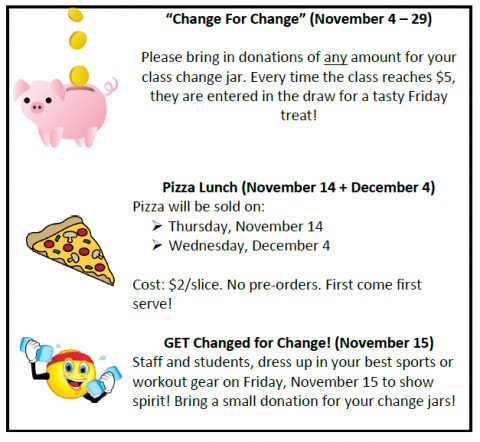 We are fundraising for United Way Regina! United Way Regina sponsors many incredible community initiatives. They host Camp Dragon, our Summer Success Camp, and champion many causes. Their goal is to make sure that all students are reading at grade level… and we want to work with them to make sure that happens!
"Change For Change" (November 4 – 29)
Please bring in donations of any amount for your class change jar. Every time the class reaches $5, they are entered in the draw for a tasty Friday treat!
Pizza Lunch (November 14 + December 4)
Pizza will be sold on:
Thursday, November 14
Wednesday, December 4
Cost: $2/slice. No pre-orders. First come first serve!
GET Changed for Change! (November 15)


Staff and students, dress up in your best sports or workout gear on Friday, November 15 to show spirit! Bring a small donation for your change jars!