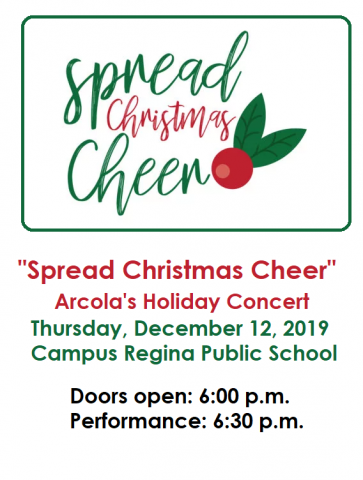 Please join us, once again, to celebrate the season with Arcola's Christmas and Holiday concert, "Spread Christmas Cheer!" This year, we will have an EVENING CONCERT ONLY and it will be held at Campus Regina Public.
"Spread Christmas Cheer"
Arcola's Christmas Holiday Concert
Thursday, December 12, 2019
6:30 p.m. at Campus Regina Public (1069 14th Ave. East)
Doors will open at 6:00 p.m.
A FEW THINGS TO NOTE...
-> Please drop your child off at their assigned classroom at Campus Regina Public before entering the theatre.
-> Please remain in the theatre until all performances are complete.
-> Following the concert, please pick your child up at their assigned classroom.
Thank you to our Arts Education specialist, Mrs. Jessica Makelburger, for all of her dedication and hard work in preparing this year's concert!