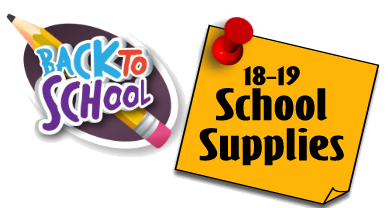 Families, it's that time again... school supply shopping!
CLICK BELOW to download:
School supply list for Pre-Kindergarten (coming soon)
The supply lists are sorted by grades. Your child's teacher will be announced on the first day of school, and she or he may provide you with additional items specifically for that classroom. Do not hesitate to contact your child's teacher if you are unable to provide some or all of the school supplies on the list. 
We strongly recommend that you label as many items as possible, especially for younger students. This includes things such as indoor shoes and backpacks, as many children come to school with similar or identical items.