---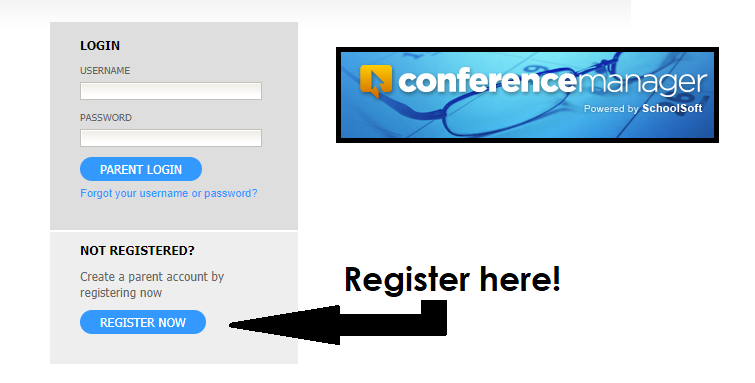 ---
How To Register
1. Click on the blue "register now" button.
2. Once you are registered, you will be able to sign up for conferences right away.
3. If you forgot your password, you can reset it using the FORGOT PASSWORD link under the login button.
How to Book a Conference Time / Date
1. Log in.
2. Click the BOOK NOW button.
3. Select the conference date in the drop-down menu that appears and select the teacher(s) you wish to meet with.
4. Click the NEXT button.
5. To coordinate bookings involving multiple teachers, select all of the teachers applicable to your child(ren) who you wish to meet with.
6. Click on an available time slot for each teacher you have selected and complete the booking form that appears.
7. You should see the booking appear in the summary list on the right hand side of the screen.
8. A confirmation e-mail is sent for each booking you have made or subsequently cancelled. 
9. You will also receive a reminder and conference itinerary via e-mail.
How to Confirm Your Conference Time/Date
1. Confirm your appointments have been booked by looking at the "CURRENTLY BOOKED CONFERENCES" box on the right of the screen or click on the MY CONFERENCES tab.
2. Only appointments that appears in the CURRENTLY BOOKED CONFERENCES box or on the MY CONFERENCES page are confirmed bookings.
When finished booking, click the LOG OFF button located at the top of the browser window.
You will have the opportunity to provide feedback regarding the use of Conference Manager to the school administration through a user survey before completely exiting.
We appreciate you completing the survey as this helps guide our decision-making regarding how conferences are booked in the future.