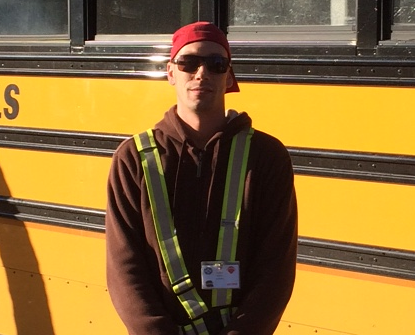 At Arcola Community School, we are all fortunate to be a part of a supportive and dedicated team. Every staff member is focused on ensuring the best opportunities and outcomes for all of our students. As a school division, we recognize the importance of highlighting some staff members who truly go above and beyond in representing our shared values ideals. In 2017, several staff members nominated an incredible member of our staff team: Robert Hornung.​
Our Kindergarten teacher Mrs. Woodard headed up his nomination. Here are a few of his qualities that she highlighted:
Rob is generous, a hard worker, caring, fun, respectful, thorough, easy going, responsible and honest.
Rob shows up daily to drive a bus full of children from Kindergarten to Grade 8.  Many of these children have high needs and Rob has a great rapport with all of them.  He takes time to connect emotionally with each student.  He goes above and beyond... Rob makes sure every student on his bus can deal with Saskatchewan frigid cold winters by supplying them with winter coats, toques and mitts.
Rob is thorough in that he follows up with making sure each student gets home safely as well as getting his charters to their destinations.  He, once again, goes above and beyond, by volunteering to supervise for most of our field trips with my Kindergarten classroom as well as various other classrooms.  One time, Rob took it upon himself to call ahead to get our class in to the RCMP Heritage museum, as a miscommunication with another destination we had intended to attend was overbooked.  It was all his idea and he literally 'saved the afternoon' by securing a spot for our class at the RCMP museum within minutes.
Anyone would be lucky to work with him, on a professional and personable level.  We love 'Bus Driver Rob!'  <3
Our school community is united by four shared values statements: I belong; I want to know; I am responsible; and I respect. These values give direction to what we teach both inside and outside the classroom. Students take responsibility for themselves and for others in the community by participating in activities ranging from progress report conferences with teachers and parents/caregivers to collecting food for the food bank. The school division celebrates and embraces multiculturalism and respects individual spiritual beliefs. Our Shared Values transcend our differences and provide an equal opportunity to recognize and encourage the unique characteristics and contributions of students, parents/caregivers and staff.
Shared Values Recognition Program
Regina Public Schools employees make the difference in the lives and the futures of all of our students. A smile from a child, a "thank you" from a parent or a "great job!" from an employer or university recruiter is proof of how we are contributing to the Regina community.
A true indicator of merit, however, is peer and community recognition. The Shared Values Recognition Program provides this recognition for all Regina Public Schools staff. This program allows Regina Public Schools staff to recognize and honour employees who exemplify the Shared Values in making significant contributions through their work.


You can read more about the Shared Values Recognition Program here. Families, if there is a special staff member who you believe is deserving of this celebration, consider submitting your nomination!