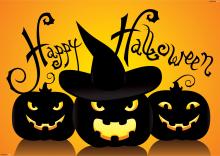 Our first spirit week of the school year is coming up! On the week of October 27-30, we invite all students to join us for fun dress-up days. Participation is encouraged but always optional! On Friday, the top three classrooms for participation percentage will receive some special Halloween treats.
Monday, October 26 -- PD Day (no school for students)
Tuesday, October 27 -- PJ Day!