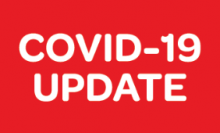 October 4, 2021 – The Saskatchewan Health Authority (SHA) informed us that there was one case of COVID-19 at Arcola Community School.
All Individuals who the SHA considers to be in contact with the positive cases will receive a letter from the SHA.
If there are any future close contacts identified at the school, they will be contacted directly by Public Health.